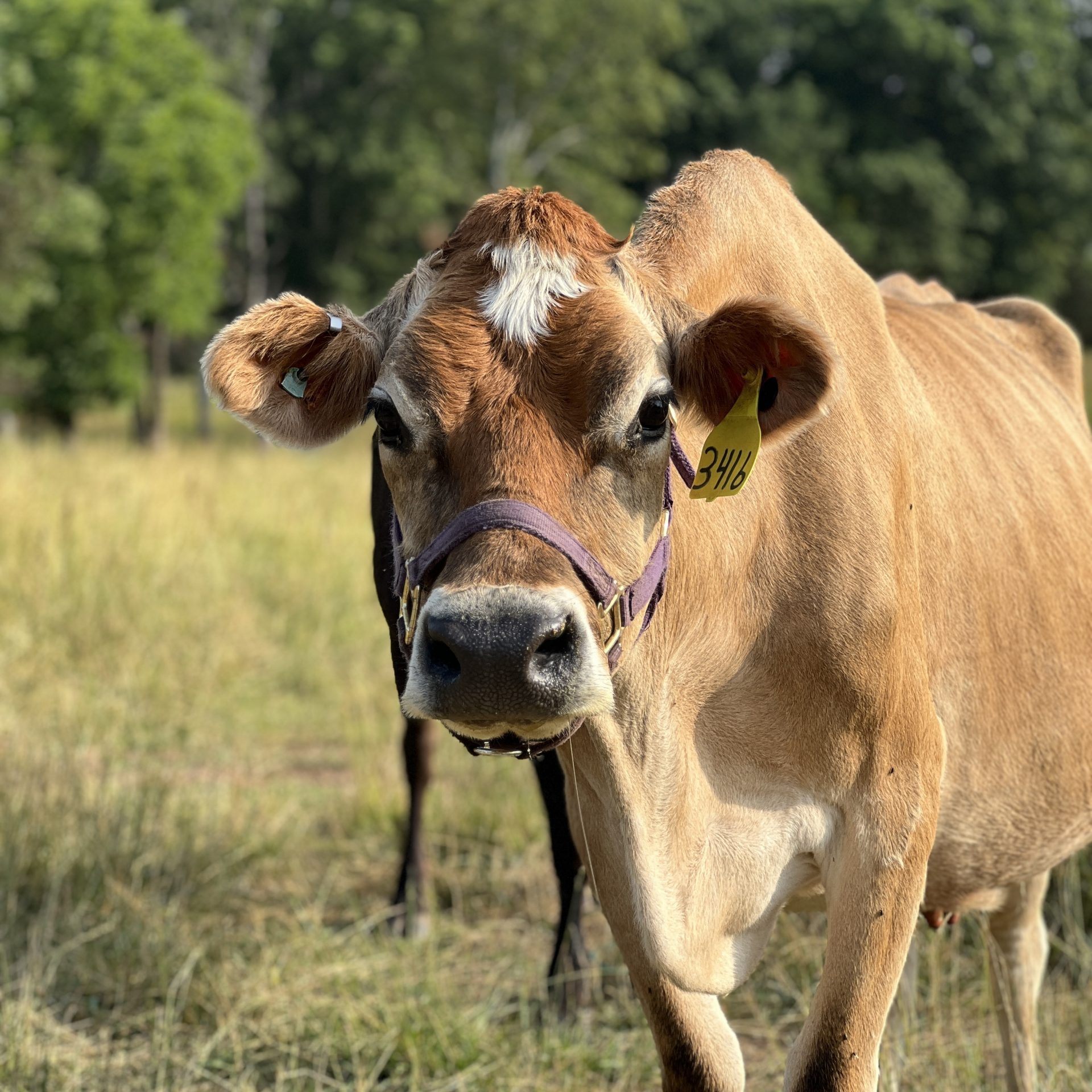 Susan
Susan is our A2/A2 grass-fed queen of the herd. She is due to calf in December with an Angus cross. She is the silly one of the bunch and is always ready for some good neck scratches.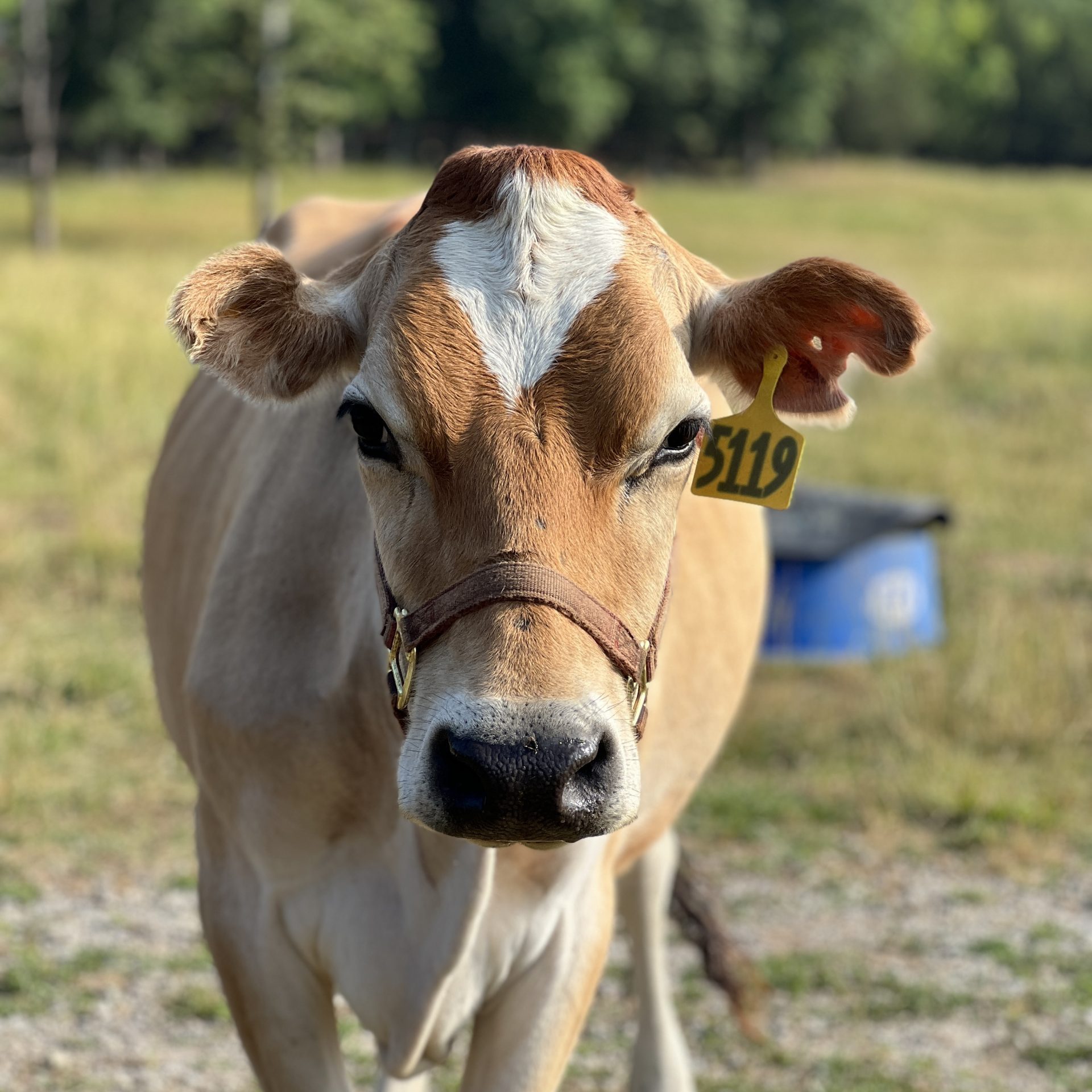 Redbud
Red is our relaxed girl, and she is very much a go-with-the-flow kind of cow. She is currently open but will be AI'd in the coming months to an A2/A2 bull. She is also A2/A2 and grass-fed.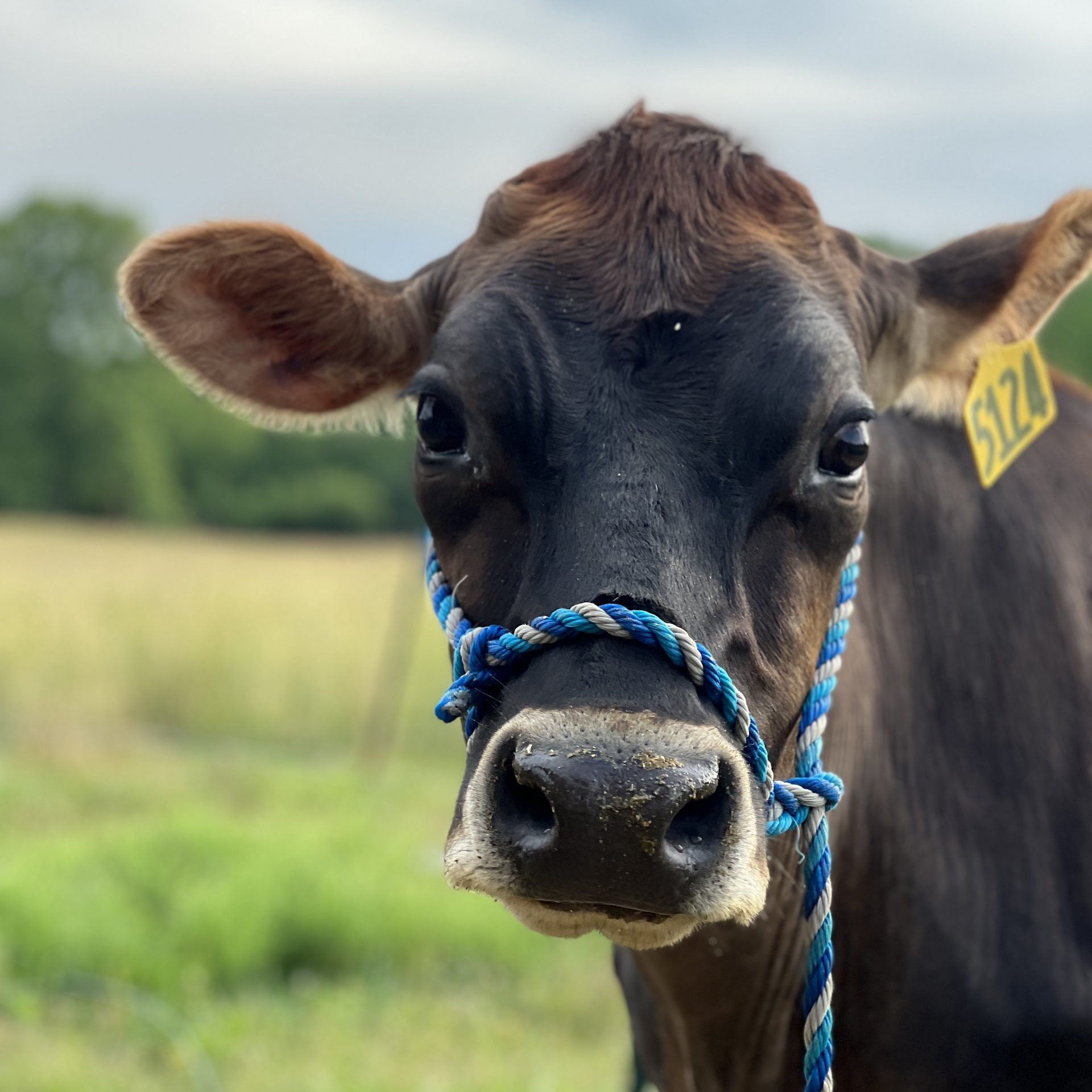 Little Debbie
Deb is the youngest in our herd, she is a 2-year-old heifer who is pregnant with her first calf. She is due in the next few weeks and is pregnant with an A2/A2 Jersey calf. She has learned the milking routine and will be a great milker when she finally calves!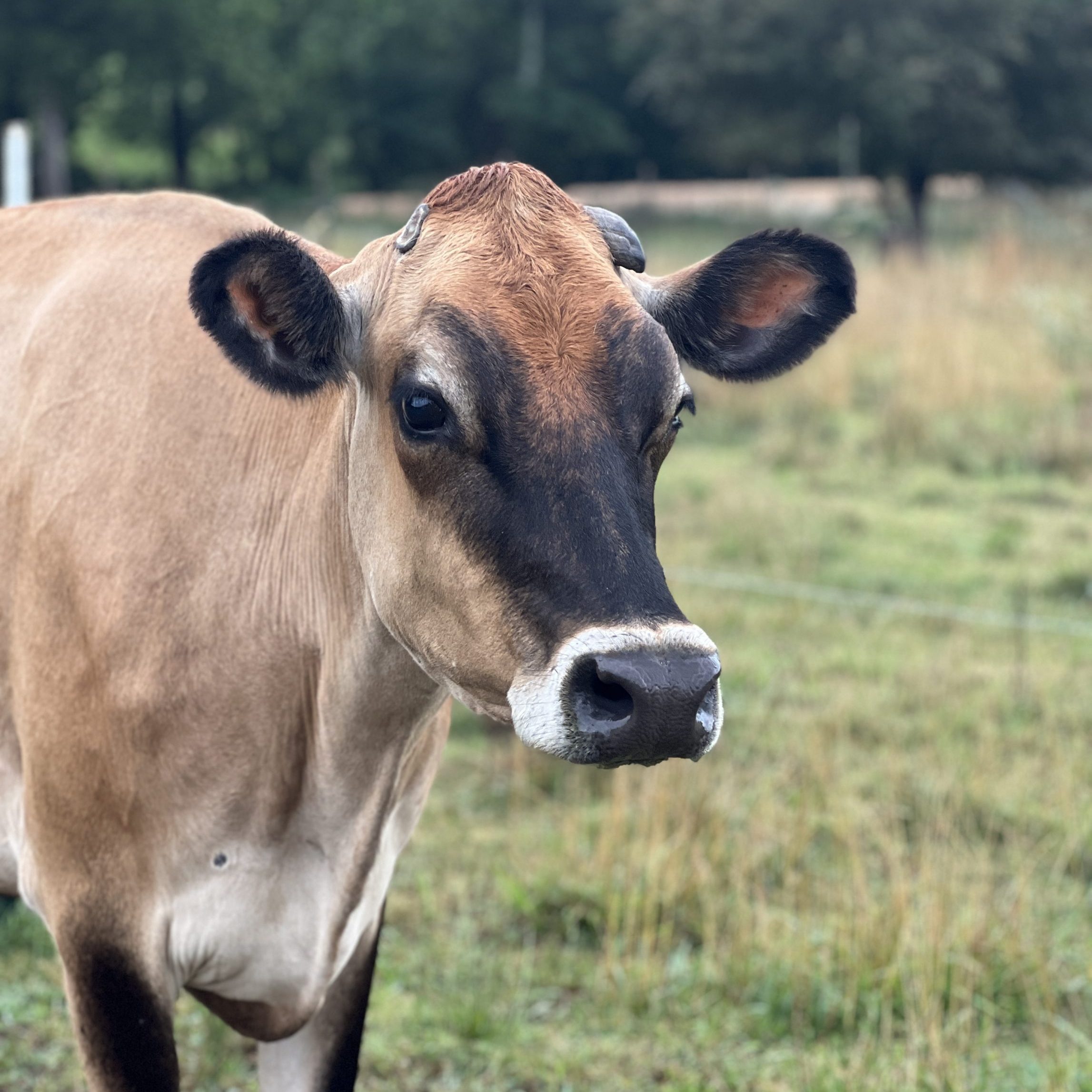 Sassy
Sassy is the newest addition to our herd. She is a 3-year-old cow who is pregnant with her second calf and due in January. She is A2/A2 and is a milking queen! We are excited to see how she progresses throughout her lactation.
All of our girls are trained to an outdoor stanchion where we milk. We use a Mitty milker to ensure the least amount of contamination possible. Before milking, we thoroughly clean each teat with a clean, warm, soapy rag and strip the first few pulls of milk. We also inspect to make sure there are no injuries to the teats and no signs of mastitis. Then each teat is wiped completely dry before the milking claw is attached.
While milking each of our girls gets 9qts of alfalfa pellets to keep them busy while on the stand. During this time we also look over each cow to ensure there are no injuries and that they look healthy overall.
When milking is complete, the milk claws are removed and each teat is milked out completely by hand. Each teat is then sprayed with an iodine teat spray to help prevent any chances of mastitis.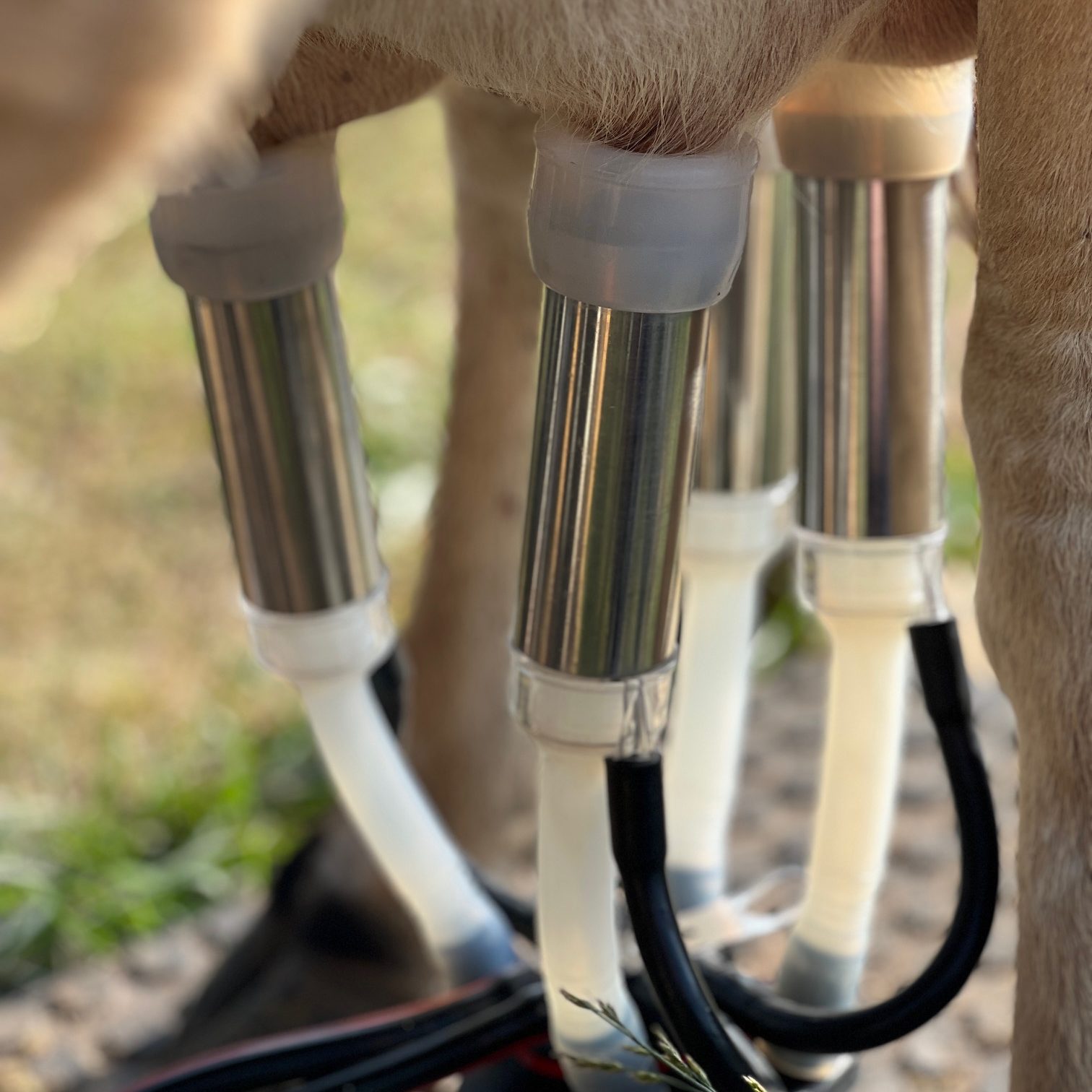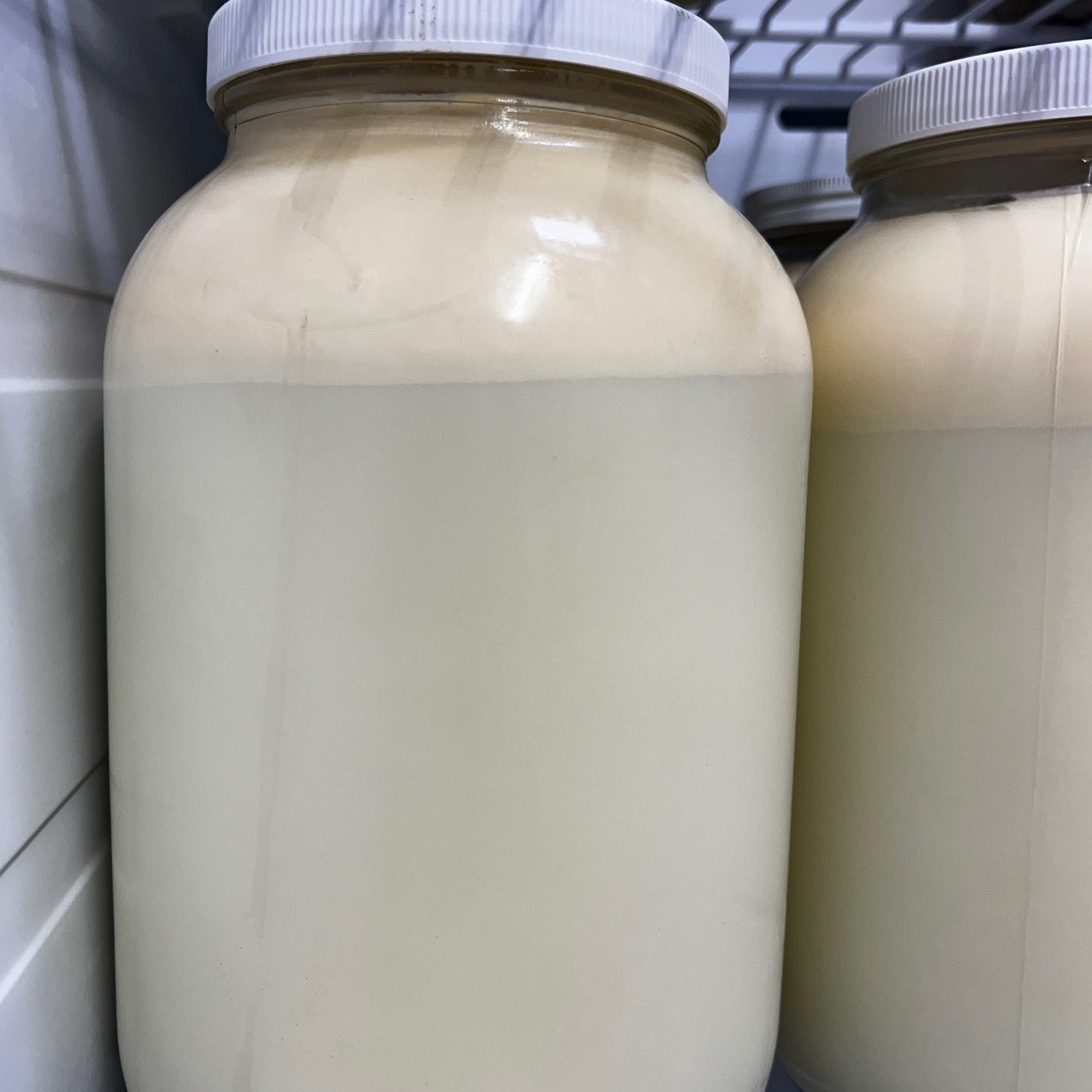 Once milking is done, we bring the milk back to the shop to be filtered and refrigerated. We do not pasteurize or skim any of our milk.
After the milk is filtered it is transfered into sterilized glass one-gallon jars. Those jars are then placed into a small refrigerator that is packed with ice each day to ensure milk is cooled rapidly. They are then stored in a fridge set to 35 degrees to ensure freshness.
We milk once a day in the evening, so each evening milk is available for sale the next day. All milk sold is less than 24 hours old, anything left after 24 hours usually is turned into cheese or sold at a discounted price.
Equipment is cleaned and sanitized after each milking and hung to dry until the next use. We also disassemble all milking equipment once a week to do a very in-depth cleaning of every component.
Currently, milk pickups are by appointment only. We are a small family-run dairy, so slots are limited. We do occasionally offer one-time pickups as they come available. Please feel free to use the chat function to reach out to find out if we have any available.
Please use the chat icon if you have any questions or wish to schedule a pickup. 
With the addition of Sassy, we will be opening up new slots in the next few days!