This post may contain affiliate links, to learn more about them, check out our Disclosure.
Goat Tummy Tamer Recipe
This past week my poor Morty was sick. He ended up with coccidia, which resulted in scour. My main concern when any of my goats get sick is to first figure out the problem and treat it, then prevent dehydration and keep their guts healthy. This Goat Tummy Tamer recipe can both prevent dehydration and help aid in keeping their gut happy.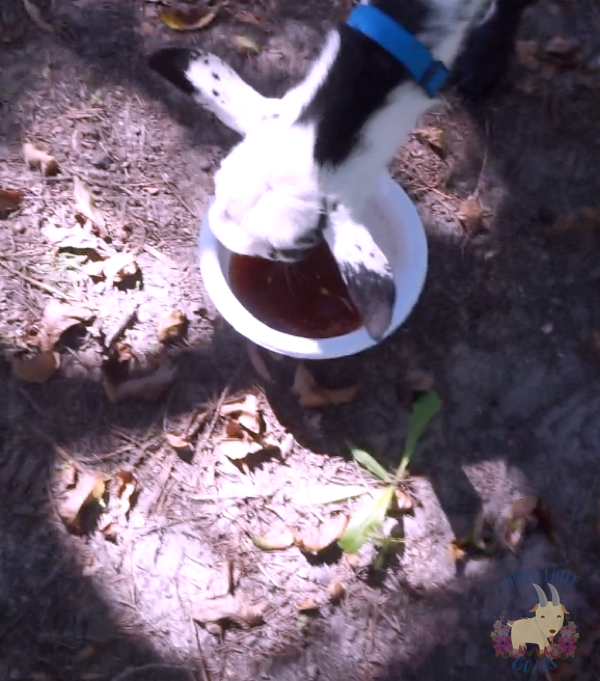 You can add or change things, depending on your specific needs, but here is the basics of what I use.
1 Cup Water
1-2 tbsp of Black strap molasses – This has many beneficial vitamins and minerals, such as calcuim, vitamin B6, iron, selenium, calcium and magnesium, that can give a goat a boost of energy.
1/2 Cup Apple Cider Vinegar – Contains natural enzymes that can give the rumen a boost. It also helps to purify the blood.
1 – 2 tbsp Fresh Ginger  – Helps to sooth an upset stomach.
1-2 tbsp Cinnamon – Helps to fight Gram positive and Gram negative bacteria and fungus, such as Coccidia and Giardia.
1-2 tbsp Cayenne Pepper – Cayenne pepper has many beneficial properties, there will be a separate post all about cayenne pepper coming soon.
If I feel like they really need a boost, I will add some ProBios to the mix as well. This will help to give their digestive system a good, healthy boost.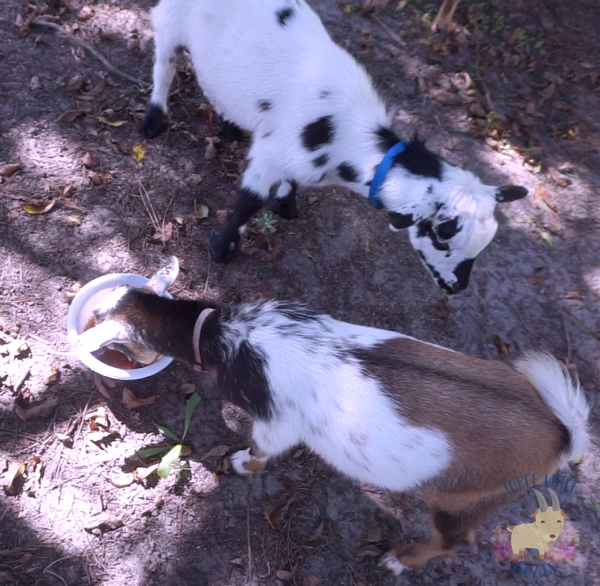 When one of my goats is sick, this Goat Tummy Tamer Recipe is my go to. It not only provides many different beneficial ingredients, it can help to keep a goat hydrated. When it comes to some health issues, dehydration is a deadly symptom and can kill a goat if not treated right away. This recipe is a sweet treat that can encourage your goats to drink and stay hydrated, even if they are not feeling well.
Note: This recipe is not meant to be a substitution for vet care. If you goat is sick, always consult a veterinarian that has knowledge and experience treating goats.
Want more goats? Check out our
YouTube Channel
, or our
Goats Section
here on the blog!