This post may contain affiliate links, to learn more about them, check out our Disclosure.
Homemade Calendula Balm
With Spring finally here, the bugs have been out in full force here in Arkansas. Add to the fact that springtime projects have started means bites, scrapes, and cuts are inevitable. One of my favorite things to keep on hand for such minor injuries is my Homemade Calendula Balm. The Calendula helps to soothe the skin and has anti-bacterial properties to help cuts and scrapes heal.

Before we get into the recipe on how to make this Homemade Balm, let's talk a bit about the benefits of Calendula.
Benefits of Calendula
One of the things I love about Calendula is how great it is for your skin. It has anti-bacterial, anti-fungal, and anti-inflammatory properties. Because of this, there many great uses for it.
Soothes Acne
Soothes Diaper Rash
Soothes Eczema
Contains SPF Properties
Wound Healing Properties
Promotes Skin Hydration
Helps Firm Skin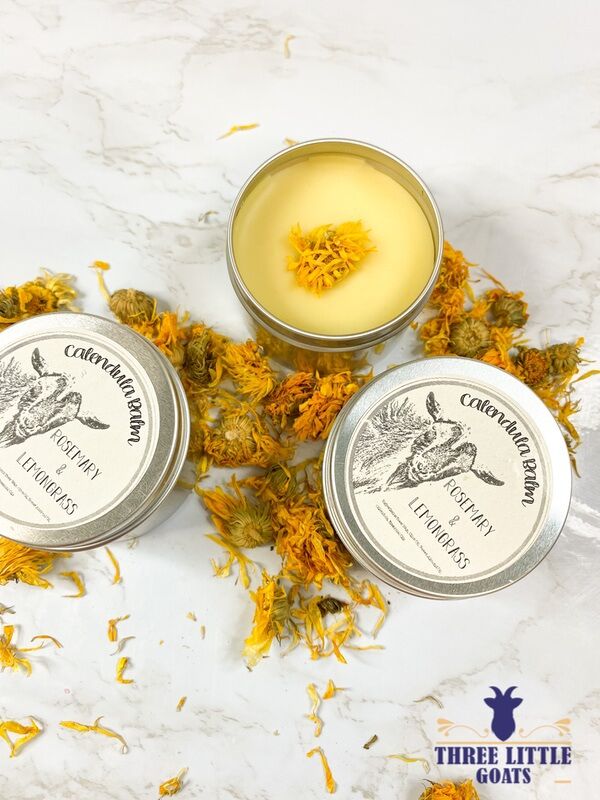 How To Make Homemade Calendula Balm
Making Calendula Balm is fairly easy and quick to do. It is one of the reasons I love to make it and sell it at our local farmer's markets. This balm can be customized with different oils and scents to make it your own!
The most important part of adding calendula into your balms, or even your soaps or lotions is to make sure you infuse your oils with it very well. You will also want to make sure that you are using dried calendula to avoid mold forming. I like to 1 part dried calendula to 3 parts oil and let it sit for a few weeks. If you do not have a few weeks, you can always heat up your oil and let the dried flowers steep for a few hours.
Recipe
Homemade Calendula Balm
Homemade Calendula Balm is an easy project to make and is great for your skin.
Equipment
Double Boiler or Candy Melter
Ingredients
1

Cup

Bees Wax, Melted

1/4

Cup

Shea Butter

1/4

Cup

Calendula Infused Olive Oil

2

tbsp

Shea Butter

2

tbsp

Vitamin E

2

tsp

Fragrance Oil of Choice
Instructions
Melt Bees Wax in a double boiler or candy melter

Combine all other oils and stir to combine

Add fragrance oil and stir well

Transfer to a sealable container and allow to cool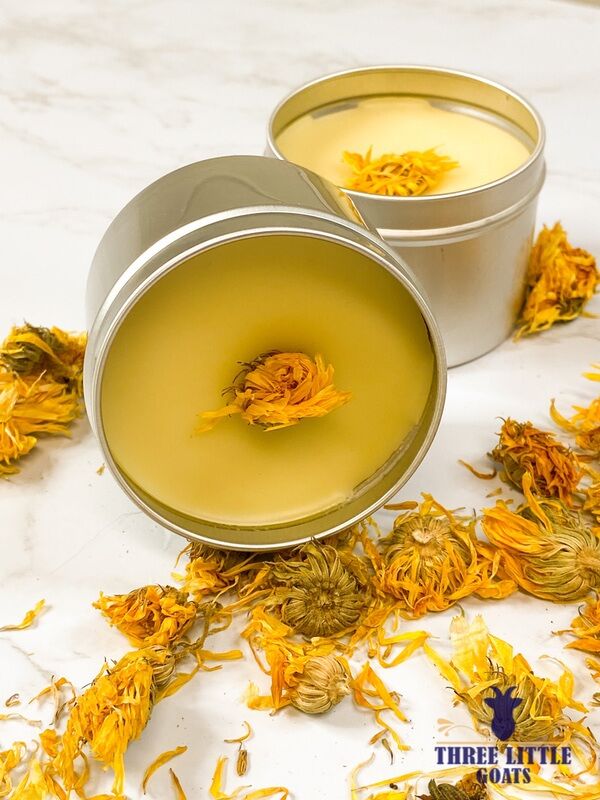 Want more easy DIY beauty product ideas? Check out our YouTube Channel!
Other Great Posts: