Free Goat Health Printable
This post may contain affiliate links, to learn more about them, check out our Disclosure.
Out of all of the animals I have raised, goats have to be my favorite. I have raised Nigerian Dwarf goats for 12 years, and in my opinion, are the best. As I rebuild my herd from moving, I am wanting to make sure I do it right. I have been very picky about the goats that I get, and I have become very diligent on keep track of everything. If you have ever raised goats, you will know they can be susceptible to a lot of parasites and diseases. If you are new to goats, do worry, it does get easier figuring everything out. In order to keep track of everything I made a few free goat health printables, and of course, I am sharing them with you!

There are three printables in this file, each one designed to help you keep track of medications, kidding, and all basic information about each of your goats.
Free Goat Health Printables
Medical Records
The first one is just a basic medical record for you. Here you can track any medications that you have given and can take note if it is a medical treatment or preventative maintenance. I also made sure to give a note section so you can write down information like FAMACHA and temperature if needed.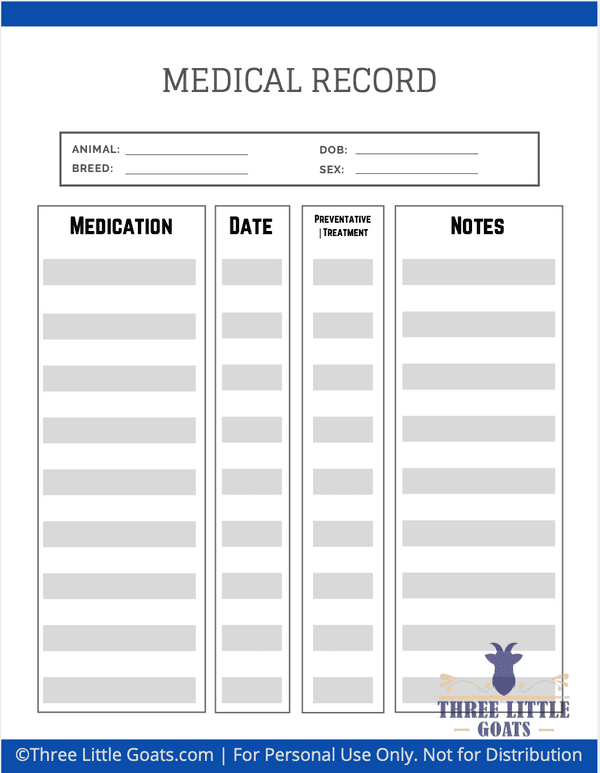 Breeding Records
The next is a breeding record. If you have more than a few goats, kidding season can be a little crazy. With this printable, you can keep track of each of your Does kiddings over the years. It is nice to be able to look back at previous kidding seasons to see how your doe is doing. This can also give you a little insight into what to expect during the next kidding season.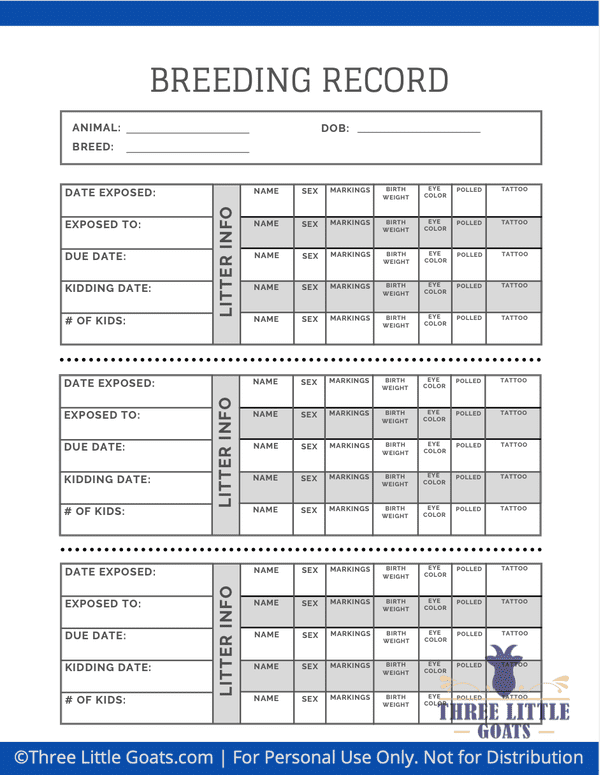 Testing Data
Also included a medical sheet in these free goat health printables. This sheet has all of a goat's basic information as well as testing information. Each year I test all of my goats for CL, CAE, and Johne's Disease. I like to have this information easily accessible when it comes time to sell any of my goats. This way I can give a potential buyer my testing info and results.
Maintance Records
I give all of my animals on our farm a "spa day". On this day we get them on the milking stand and trim hooves, brush out coats and just give them a good once over. This way I can get up close to each of them and make sure they are all nice and healthy. With this last page I can write down the date of when they had their hooves trimmed, their coats brushed or cut, and their FAMACHA. I also left an area to write any notes down as well.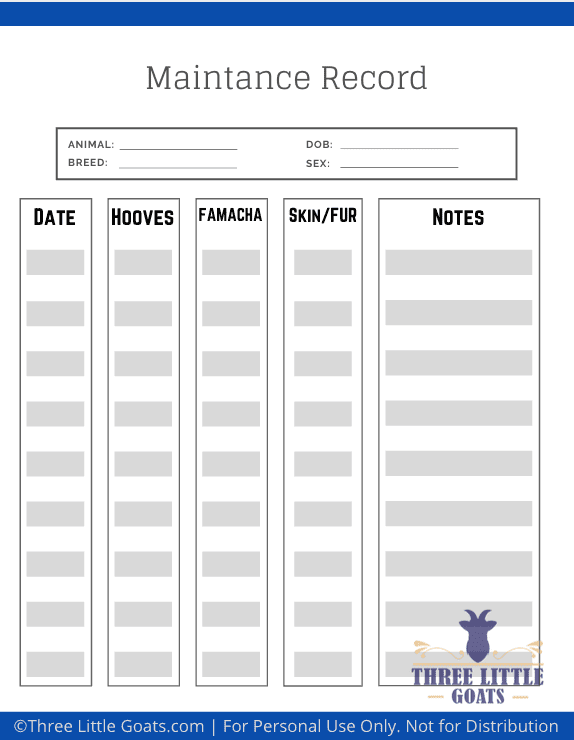 It may seem like overkill, I just prefer having everything written down where I can easily see it at a glance. I keep a goat binder and store all of my ADGA documents for each goat and their medical records together. Check back in a few weeks when I do a full explanation of my goat binder and how I keep everything organized.
Want these Free Goat Health Printables? Grab them down below!
Grab the Free Goat Health Printable Here!
Looking to get your homestead more organized? Check out our
Free Homesteading Planner!
Also, be sure to Subscribe to our
YouTube Channel
for more helpful goat info!
Other Helpful Articles: